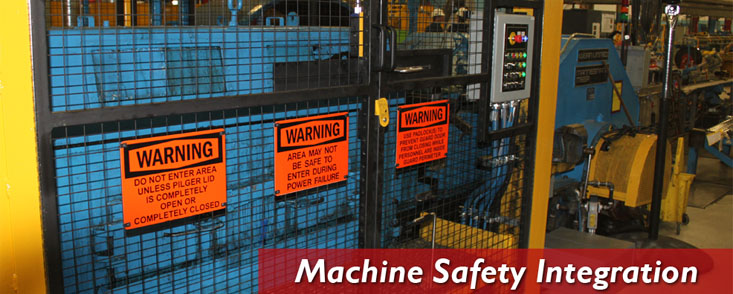 Machine Safety Integration
The demand for workplace safety is growing as businesses strive to meet increasing government safety regulations, policies and procedures.

Canadian Industrial Services provides comprehensive and integrated safety solutions that reliably protect your employees, your machines and your facility.

Our machine safety integration customers span a number of industries and sectors and vary in size and scope.

Through an effective consultative process, CIS designs, manufactures, retrofits and installs the necessary solutions and technologies to make your manufacturing and processing systems safe and efficient.

Combined with CIS operator training, clear signage postings, and strategic planning for both current and future flexibility, Canadian Industrial Services is the right partner for your specific machine safety solutions requirements.

Our 24-hour Emergency Service ensures that the help you require is available when you need it.

Call us today and get Team CIS working for you!
905-372-8333

Testimonial:
"We have used CIS as a full service project team to assist with design, set up, installation, and integration of a number of complex systems always with excellent results." - Al Stobbart, Plant Manager, Limpact International